Translational Imaging Center
With our Translational Imaging Center (TIC) we bring together excellent research areas at DTU needed to establish a world-leading environment for research, education and innovation in novel, advanced healthcare technologies.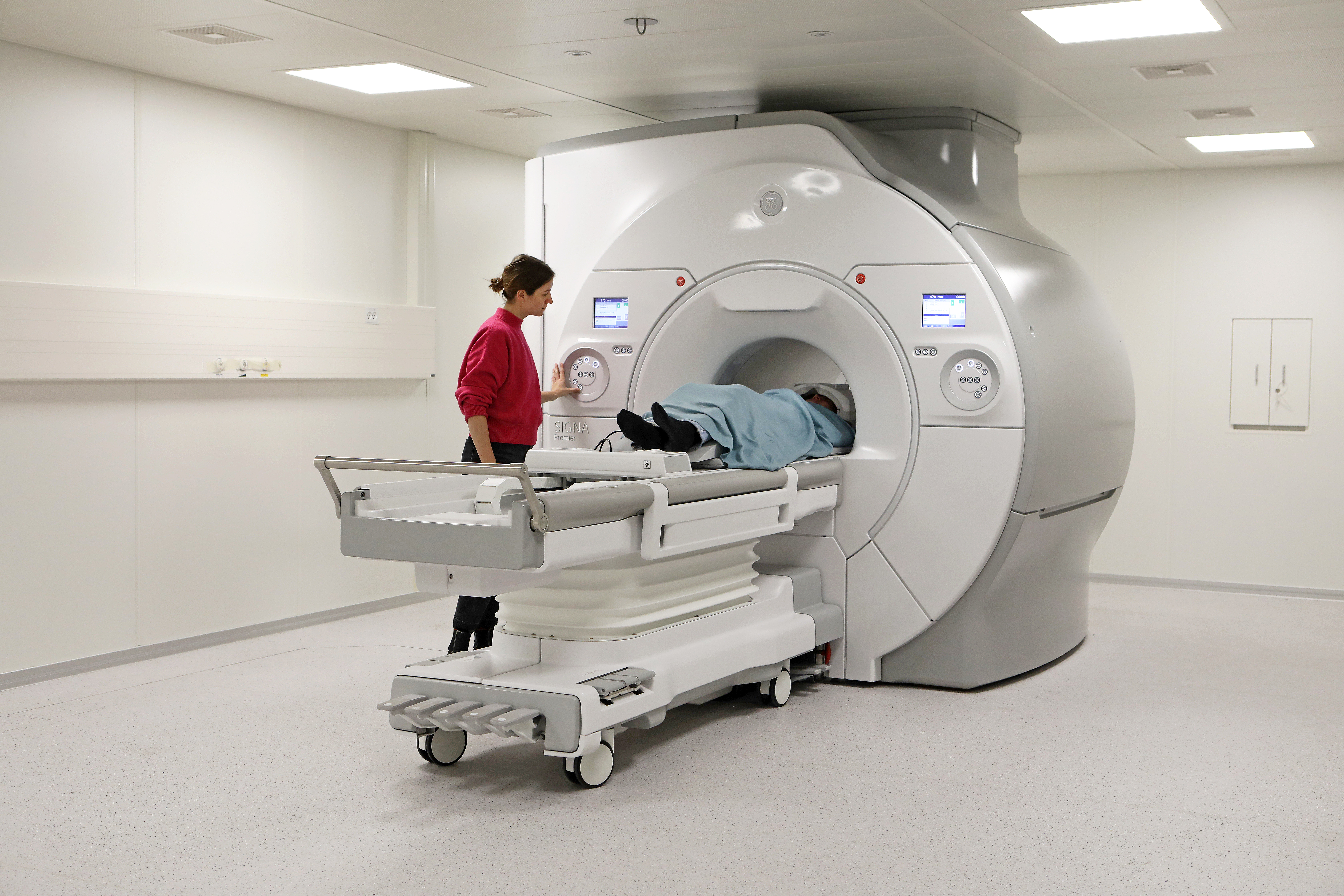 Collaboration is vital at TIC. We mix research in biology and technology, and we partner up with industry and the health sector to ensure succesful translation of technology from research to the clinic.
TIC taps into the activities within networks such as the Danish Bioimaging Network and Euro-Bioimaging, where the facility will be offered as an open access infrastructure for all life science researchers.
The centre offers access to the following imaging modalities:
At the centre, we have a MR scanner at our disposal. The scanner can be used for humans and large animals. It is located at DTU, Lyngby campus .

Magnetic Resonance Imaging (MRI) is a non-invasive way to examine your organs, tissues and skeletal system.
MRI provides soft tissue contrast images that can differentiate between e.g., fat, water and muscle. However, MRI can also map a wide range of other parameters characterizing for example the blood flow, metabolism, brain function, microstructure, diffusion, electrical and magnetic tissue properties, making MRI an extremely versatile medical imaging technique. These images can be useful in diagnosing a wide variety of diseases and conditions.
At the centre, we have a Micro-CT scanner available for imaging rodents or tissue.

Micro computed tomography (Micro-CT) enables three-dimensional imaging at very high resolution. With this methodology, there is no need for sample preparation or slicing. The scanner can accommodate small animals such as mice and rats. Micro-CT is suitable for studying bone, teeth, tissue and organs.
At the centre, we offer access to optical imaging
Optical imaging and fluorescence imaging are commonly used in small animal scientific research to visualize and track biological processes and molecular interactions in living tissues non-invasively. Optical imaging uses light emitted from the subject being scanned and fluorescence imaging uses special dyes or proteins that emit light when exposed to specific wavelengths of light, allowing for the visualization of biological structures and processes in living tissues.
In the future, TIC will offer access to a Positron Emission Tomography (PET) scanner primarily for small animals.

PET imaging is a type of medical imaging that uses radioactive tracers to produce 3D images of functional processes within the body.
PET is for example useful for investigating confirmed cases of cancer to determine how far the cancer has spread.

In the future, TIC will offer access to Single Photon Emission Computed Tomography (SPECT) imaging for small animal studies.

SPECT is used for small animal scientific research, where gamma rays and specialized cameras produce 3D images of molecular and cellular processes in living tissues, providing valuable information for the study of various biological processes.